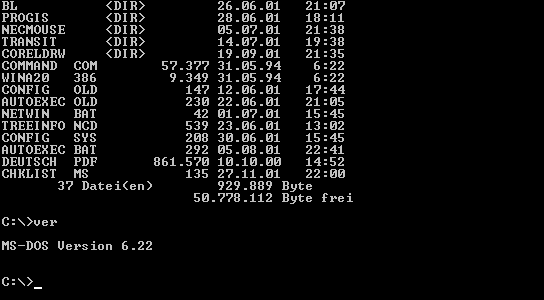 MS-DOS 6.2x
Extra security was built into DoubleSpace following complaints of data loss. A new disk checker, SCANDISK, was also introduced, as well as improvements to DISKCOPY and SmartDrive.
MS-DOS 6.2x

released

floppy

6.20 – 09.1993
6.21 – 03.1994
6.22 – 04.1994

5 1/4 inch
double-sided: 1,2 MB
3 1/4 inch
very high density: 2,88 MB

FAT 16
2 GB HDD supported
Update 6.21: Following legal action by Stac Electronics, Microsoft released this version which had DoubleSpace removed. It came with a voucher for an alternative disk compression program.
Update 6.22: Microsoft licensed a disk-compression package called DoubleDisk from VertiSoft Systems and renamed it DriveSpace, which was included in this version.
With the DOS 6.2x there where some problems with the law for the compress tool. So in version 6.2 the software DoubleSpace was shipped with in version 6.21 it was removed and than in version 6.22 (the last official version of MS-DOS) it was replaced with drvspace. Microsoft brought out a free "stepup" for all 6.x version to 6.22. Also the new Certificate of Authenticity was born to protect the user from illegal copies.