Changes will be made on this page and all data will be added to a smooth table.
Data from 1996 – 2006 (rest will follow when I have the time for it)
List of sockets with Intel CPUs
80486
Celeron
Socket 370 (old Celeron)
Socket 478
Socket T/LGA 775
Itanium (1 and 2)
Pentium
Pentium Pro
Pentium II
Pentium III
Pentium 4
Socket 423
Socket 478
Socket T/LGA 775
Pentium M
Xeon
List of sockets with AMD CPUs

Am486
486 Socket
Socket 1
Socket 2
Socket 3
Socket 6
K5
K6
Athlon
Athlon 64
Socket 754
Socket 939
Socket AM2(940-pin)
Athlon 64 FX
Socket 939
Socket 940
Socket AM2(940-pin)
Duron
Opteron
Socket 939
Socket 940
Socket F(1207-pins)
Sempron
Turion/Athlon (mobile)
Socket 563 (old)
Socket S1 (new)
Sockets details
Intel's Socket 3 was a type of CPU socket into which various x86 microprocessors were inserted. It was commonly found alongside a secondary socket designed for a math coprocessor chip, in this case the 487. Socket 3 resulted from Intel's creation of lower voltage microprocessors. An upgrade to Socket 2, it rearranged the pin layout and omitted one pin so that 3V processors could not be plugged into older 5V only sockets.
Socket 3 was a 237 pin LIF/ZIF PGA (19×19) socket suitable for the 3.3V and 5V, 25-50 MHz 486 SX, 486 DX, 486 DX2, 486 DX4, 486 OverDrive and Pentium OverDrive processors.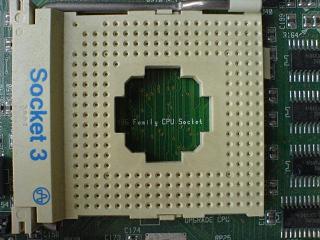 Socket 4 was the first socket designed for the early Pentium processors. Socket 4 was the only 5 volt Pentium socket. After socket 4 Intel switched to the 3.3 volt powered socket 5. Socket 4 does support a special Pentium OverDrive, which allows running at 120 MHz (for the 60 MHz Pentium) or 133 MHz (for the 66 MHz Pentium).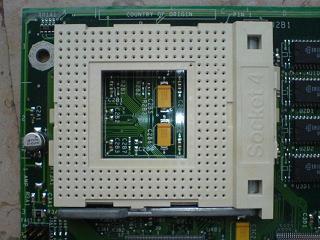 Socket 5 was created for the second generation of Intel Pentium processors operating at 75 MHz or higher. Consisting of 320 pins, this was the first socket to use a staggered pin grid array, or SPGA. This design allowed the chip's pins to be spaced closer together. It also introduced the ZIF design which allowed a chip to be dropped into the socket without force. A lever was used to lock the chip in place.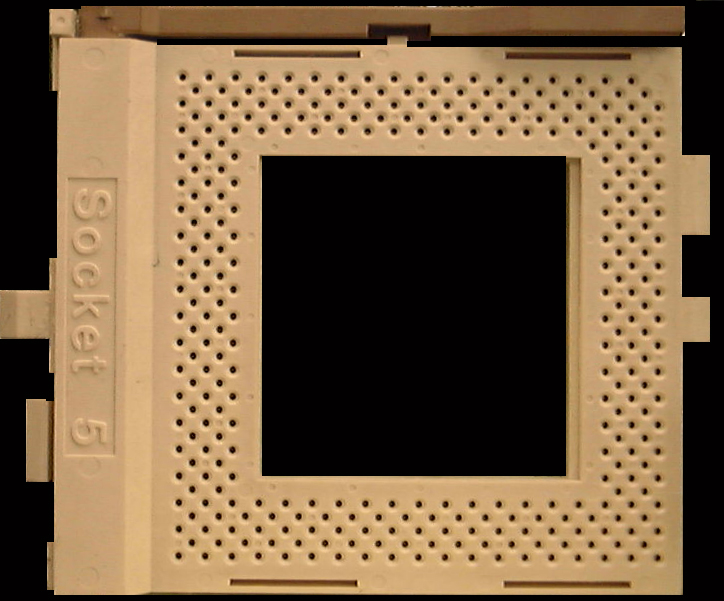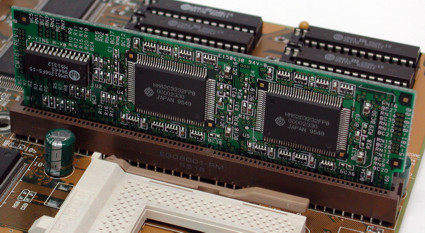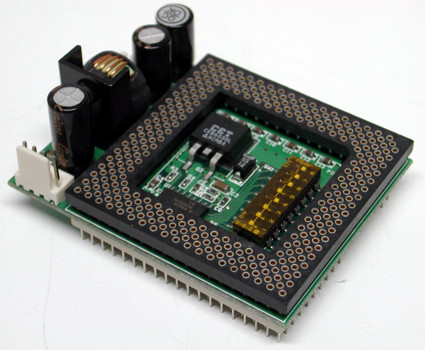 Socket 6 was a 486-generation CPU socket, a slightly modified version of the commonplace Socket 3.
Intel designed this new standard near the end of the 80486's market life, and hence few motherboards were produced that utilised it, especially as the Socket 3 standard was already sufficient.
Specifications:
3.3 Volt electrical output supported the Intel 80486DX4 and Pentium OverDrive 235 pin ZIF socket

Socket 7 is a physical and electrical specification for an x86-style CPU socket on a personal computer motherboard. The socket supersedes the earlier Socket 5, and accepts Pentium microprocessors manufactured by Intel, as well as compatibles made by Cyrix, AMD and others. Differences between Socket 5 and Socket 7 are that Socket 7 has an extra pin and is designed to provide dual split rail voltage, as opposed to Socket 5's single voltage. (However, not all motherboard manufacturers supported the dual voltage on their boards initially.) Socket 7 is backwards compatible; a Socket 5 CPU can be placed in a Socket 7 motherboard.
Supported processors include: 2.5V – 3.5V Pentium 75-200 MHz and Pentium MMX 166-233 MHz, AMD K5 through K6, Cyrix 6×86 (and MX) P120 – P233.
Socket 7 uses a SPGA socket, either a 296 pin LIF arranged at 37×37 (which is very rare), or the much more common 321 pin ZIF arranged at 19×19.
An extension, Super Socket 7, was designed to allow the AMD K6-2 and AMD K6-III chips to operate at a higher clock rate and use AGP.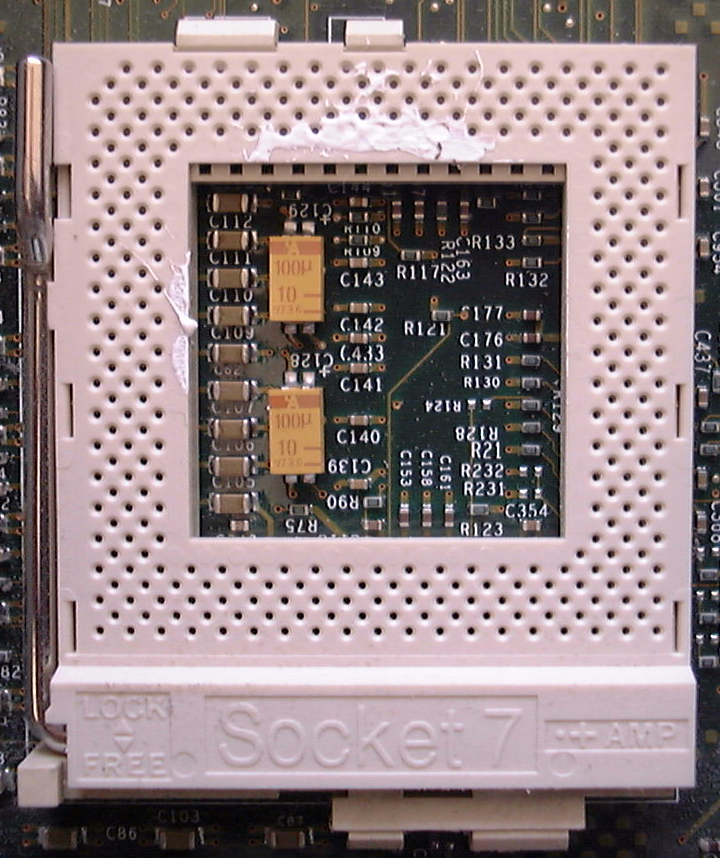 The Super Socket 7, also referred to as "Super 7", is an extension of the Socket 7 ZIF socket specification. It features a 100 MHz front-side bus, support for the AGP bus, and an SPGA package. Super Socket was used by AMD K6-2 and K6-III processors. Super Socket 7 is backward compatible with Socket 7, meaning a Socket 7 CPU can be used with a Super Socket 7 motherboard, but a Super Socket 7 CPU would not be able to run at full speed on a Socket 7 motherboard.
While AMD had previously always used Intel sockets for their processors, Socket 7 was the last one for which AMD retained legal rights. Intel had hoped by discontinuing Socket 7 development, AMD would be left with an outdated platform, making their processors uncompetitive. By extending the FSB from 66 to 100 MHz, Super Socket 7 gave AMD the stopgap solution they needed, to develop their own independent motherboard infrastructure.
While the architecture was cheap, and served the intended purpose, many of the third party chipsets provided by VIA, SiS, and others, were of low quality, especially in regard to the AGP implementations. The reputation AMD gained for buggy incompatible motherboards lingered, and subsequently AMD put in place a quality assurance program for the Athlon processor.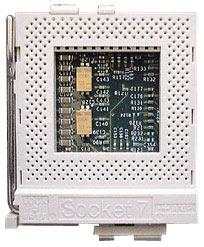 Socket 8 CPU socket was used exclusively with the Intel Pentium Pro and Pentium II OverDrive computer processors. Intel discontinued socket 8 in favor of Slot 1 with the introduction of the Pentium II.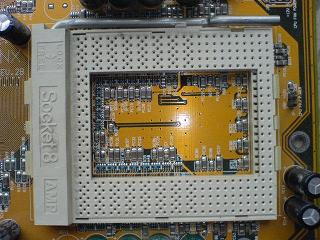 Socket 370 is a common format of CPU socket first used by Intel for Pentium III and Celeron processors to replace the older Slot 1 CPU interface on personal computers. The "370" refers to the number of holes in the socket for CPU pins. Modern Socket 370 fittings are usually found on Mini-ITX motherboards and embedded systems.
Socket 370 was originally used for the Intel Celeron, but later became the socket/platform for the Coppermine and Tualatin Pentium III processors, as well as the Via-Cyrix Cyrix III, later renamed the VIA C3.
This platform is not wholly obsolete, but its use is today limited to the above specialty applications, having been superseded by Socket A (462 pins for Athlon) and Socket 754/939/940 (for Athlon 64 and Opteron) on the AMD side and Socket 423/478/775 (for Pentium 4) on the Intel side. Via are still producing Socket 370 processors, but are increasingly migrating their processor line to ball grid array packages.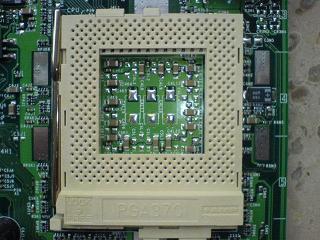 Socket 423 is a CPU socket that was used for the first Pentium 4 processors based on the Willamette core. However, it was short-lived as it quickly became apparent that it had inadequate electrical design, which would have not allowed many clock-speed rises above 2.0GHz. It was replaced by Socket 478.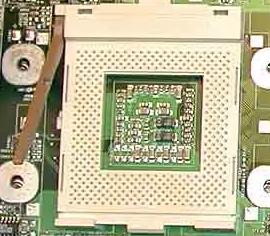 In computing, Socket 478 is a type of CPU socket used for Intel's Pentium 4 and Celeron series CPUs. Socket 478 is being phased out with the launch of LGA 775. (LGA stands for Land Grid Array, referring to the fact that the pins are on the motherboard.)
Socket 478 has been used for all of the Northwood Pentium 4s and Celerons, the first Prescott Pentium 4s, and some Willamette Celerons and Pentium 4s. Socket 478 also supports newer Prescott Celeron Ds, and early Pentium 4 Extreme Edition processors with 2MB of L3 cache and some Core Duos. The socket was launched with the Northwood core to combat AMD's 462-pin Socket A and their Athlon XP processors. Socket 478, which accommodates high and low-end processors, was also the replacement for Socket 423, a Willamette processor socket that did not have a long life.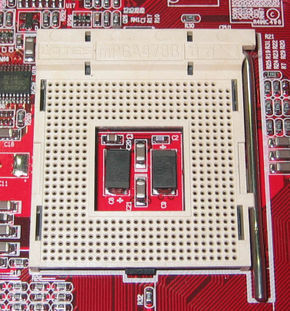 Socket 479 is the CPU socket for the Intel Pentium M, a mobile processor, normally used in laptops, as well as Tualatin-M Pentium III processors. It uses a different pin-arrangement from socket 478, making it impossible to use a Pentium M in a normal 478 board. Asus makes a drop-in board (CT-479) which lets you use socket 479 processors in selected Asus boards. Currently, the only chipsets for the Pentium M are the Intel 855GME, Intel 915GM and Intel 6300ESB.
Recently, Intel has released a new socket 479 with a revised pinout for its Core processor. This socket has the placement of one pin changed from the original socket 479 in order to make the different processors incompatible in the incorrect socket. The "new" socket 479 suports a quadpumped 166 MHz FSB, effectively a 667 MHz FSB.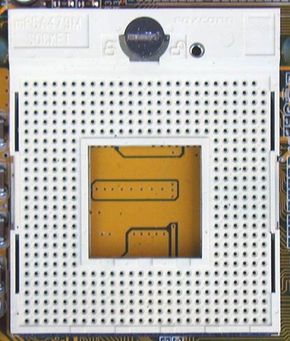 Socket 754 is a CPU socket originally developed by AMD to succeed its powerful Athlon XP platform (Socket 462, also referred to as Socket A). Socket 754 was the first socket developed by AMD to support their new consumer version of the 64 bit microprocessor family known as AMD64. (Previous documents show x86-64 as a similar technology. They are in fact one and the same.)
Socket 754 is a budget-minded socket, for use with AMD Athlon 64 or Sempron processors. Compared to Socket 939, it features:
support for a single channel memory controller (64-bits wide) with maximum of 3 DIMMs lower HyperTransport speed (800 MHz Bi-Directional, 16 bit data path, up and downstream) lower effective data bandwidth (9.6 GB/s) lower motherboard manufacturing costs In comparison to its newer sibling, Socket 939, the only main difference is lack of dual channel memory support. Socket 754s will continue to drive sales for AMD's value processor, the Sempron and single channel memory versions of the Athlon 64.
Whereas AMD has of late promoted Socket 754 as a budget platform on the desktop and encouraged mid and high end users to use Socket 939 instead, Socket 754 remains AMD's high end solution for mobile applications. No Socket 939 Athlon 64 CPUs are marketed as "mobile" processors, but the number of Mobile Athlon 64 CPUs released for mobile applications is in fact substantially greater than the number released for desktop PCs. The fastest Socket 754 CPU available is in fact a Mobile Athlon 64 (a 4000+ running at 2.6GHz, whereas the fastest desktop CPU is a 3700+ running at 2.4GHz).
Socket 754 is due to be phased out for Socket AM2, which is expected to be released in 2006.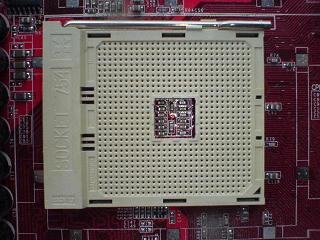 Socket 939 was introduced by AMD as an answer to Intel's new platform for desktop products, Socket LGA775. Socket 939 is due to be succeeded by Socket AM2.
Socket 939 CPUs: Key Features
32-bit performance, full IA-32 (x86) compatibility and support for future 64-bit applications using the AMD64 instruction set extensions
40-bit physical addresses, 48-bit virtual addresses
Eight new 64-bit integer registers, for a total of sixteen
Eight new 128-bit SSE/SSE2 registers, also for a total of sixteen
Includes support for 3DNow technology and SSE2, and SSE3 when using more recent (revision E) processors
Integrated dual channel DDR SDRAM controller supporting up to 200MHz PC3200 ("DDR400")
Up to 6.4 GB/s memory bandwidth
Hyper Transport technology for high speed I/O communication, one 16 bit link up to 2000MHz
64KB Level 1 instruction cache, 64KB Level 1 data cache
Up to 1MB Level 2 cache
Certain models (Athlon 64 X2) are dual-core processors and have two physical CPU cores on one processor die.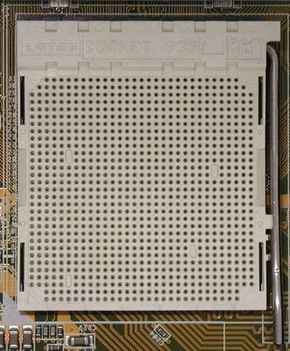 Socket 940 is a 940-pin socket for 64-bit AMD server processors. The socket is almost entirely covered with leads with no hole in the middle. There are four spots on the socket which do not have leads, and are used to align the processor correctly. AMD Opterons and the older AMD Athlon 64 FX (FX-51) uses Socket 940. Being an intended server platform, processors using this socket only accept registered, ECC memory, because with servers and workstations, memory errors are less acceptable and cause more damage. Dual Socket 940 boards also exist, allowing the use of multiple 200-series Opterons, and even four or eight-socketed boards are in existence. The Socket 940 platform is designed for professional accuracy, not speed or bleeding-edge gaming performance.
There is a new 940-pin socket called M2, or AM2, which is on AMD's upcoming road map. Though the current Socket 940 and the M2 both share the same number of pins, they are not pin-compatible. That is, a Socket 940 processor will not fit in a M2 socket. The same is true in reverse; a Socket M2 processor will not fit in Socket 940. The reason for this is due to the fact that all 64-bit AMD processors, unlike all current Intel processors, include the memory management functionality not as a discrete chip on the motherboard, but rather on the CPU die itself. That means that, if someone wishes to utilize a newer type of memory (e. g. DDR2 vs. DDR), then AMD would need to manufacture an entirely new microprocessor with entirely new memory management electronics built into the chip in order for that newer memory to be useable. This is exactly the situation here; Socket M2 is designed for DDR2 memory, whereas Socket 940 is designed for DDR (occasionally called "DDR1") memory. This issue highlights one of the disadvantages of including the memory management functions on the CPU die itself. However, performance benchmarks suggest a significant performance increase by doing so, hence AMD's decision to take this design route.
For somewhat related reasons, Socket 939 processors cannot be used in Socket 940 motherboards, even though both Socket 939 and Socket 940 CPUs support the same DDR (aka "DDR1") memory. The distinction here is that Socket 940 requires more expensive registered memory, whereas Socket 939 uses less expensive unregistered memory. There are also issues of electrical capacitance which lead to four-layer vs. six-layer motherboards (the latter are slightly more expensive to manufacture), which was the reason for the genesis of Socket 939; Socket 940 requires six-layer motherboards. This pin-incompatibility was known to cause some frustration when AMD moved the Athlon 64 FX processor, their premier gaming platform, from a Socket 940 (Opteron 1xx) basis to Socket 939; users who wanted more speed needed to purchase and install an entirely new motherboard. AMD's motivation for Socket 939 was entirely driven by perceived total system cost. However, even after this socket change, the Athlon 64 FX series remained a relatively high cost option, even at times slightly higher than a comparable Socket 940 Opteron. Given the Opteron's excellent performance, it was not unheard of for Socket 940 Opteron 1xx sales to actually cannibalize Athlon 64 FX sales, even at times among the FX's target market, gamers!
Given AMD's recent proliferation of CPU socket platforms, questions about Socket 940's longevity abound on the Internet. Socket 940 was, from the start, primarily geared toward server and higher-end workstation markets, where purchasing decisions are traditionally conservative and customers are known to depreciate (and thus use) their existing gear over at least a five-year cycle. Thus, AMD's plans for Socket 940 stretch out several years into the future, and longevity for this platform is expected to be relatively long. As an example, Socket 5, made famous by the Intel Pentium processor, was in active manufacture, in various backwards-compatible forms including Super Socket 7, for over five years. Socket 370, championed by Intel's Pentium III and Celeron lines, lasted for a similar time frame.
Note that, regardless of the socket form factor, all 64-bit AMD processors will run all of the same software; they are all fully binary-compatible.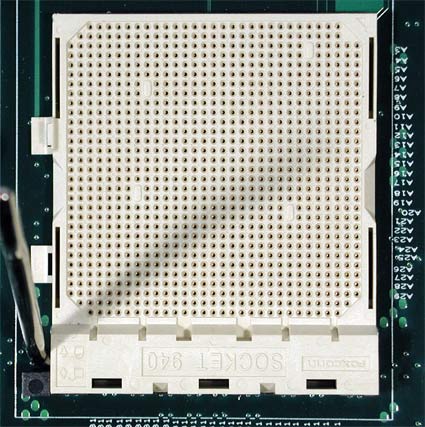 Socket T, also known as LGA 775, is Intel's latest CPU socket. LGA stands for Land Grid Array, which means that the pins are on the motherboard, not the processor. The Prescott and Cedar Mill (Pentium 4 core), as well as the Smithfield and Presler (Pentium D dual core), currently use the LGA 775 socket type, and in June 2006, Intel plans to release Merom (Core) and Conroe (Core Duo), which will utilize this socket type as well. Intel changed from Socket 478 to LGA 775 because Intel plans to offer a front side bus of 1066 MHz and the new pin type has better power distribution to the processor. The 'T' in Socket T was derived from the now cancelled Tejas core, which was to replace the Prescott core.
The new socket type also has a new method of connecting the heat dissipation interface to the chip surface and motherboard. In previous sockets the main heatsink-fan retention mechanism was not directly connected to the motherboard and supposedly had a tendency to fall off during transit of prebuilt computers. Two points of contact was also known for causing uneven contact between the heatsink and processor. Now the heat dissipation interface is connected directly and securely to the motherboard on four points, versus the two of the Socket 370 and the "flimsy" four point connection of the Socket 478 also known as "clam-shell" connections.
Motherboard vendors have complained that LGA packaging was introduced solely to move the burden of bent pin problems from Intel to the electronics vendors. Considering that mainstream Intel processors actually sell for a higher price than most of the motherboards they are designed to fit in, the LGA 775 design may actually prove beneficial to the end users and computer technicians. They lose less by accidentally ruining a motherboard rather than destroying the CPU.
Slot A refers to the physical and electrical specification for the edge-connector used by early versions of AMD's Athlon processor.
The connector allows for a higher bus rate than Socket 7 or Super Socket 7. Slot A motherboards use DEC's EV6 bus protocol, technology that was originally developed for the Alpha processor. Slot A is mechanically compatible but electrically incompatible with Intel's Slot 1. It was superseded by Socket A.
Socket A (also known as Socket 462) is the CPU socket used for AMD processors ranging from the Athlon Thunderbird to the Athlon XP/MP 3200+, and AMD budget processors including the Duron and Sempron. The socket is a zero insertion force pin grid array type with 453 pins (nine pins are blocked in the socket to prevent accidental insertion of Socket 370 CPUs, hence the number 462). The front side bus frequencies for the AMD Athlon XP and Sempron are 266 MHz, 333 MHz, and 400 MHz. Socket A is considered a discontinued architecture (replaced by socket 754 and socket 939), although chips and motherboards are still in circulation.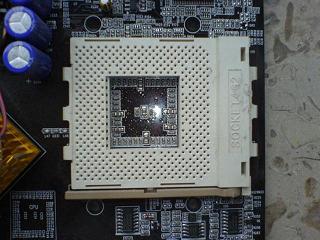 Socket 563 is a microPGA CPU socket used exclusively for low-power (16 W and 25 W TDP) Athlon XP-M processors (Models 8 & 10).
This socket can usually be found on laptops and requires a low-power mobile part in a special 563-pin µPGA package which is different from the Socket A (453-pin) package used for other Athlon processors.
There exist desktop computer motherboards equipped with socket 563. PCChips is known to have marketed such a board (actually made by ECS), bundled with a socket 563 processor and a heatsink.

Socket F is a new CPU socket designed by AMD for its Opteron line of CPUs. The socket will have 1207 pins, and is planned to be released in June of 2006. Release dates are tentative however, and subject to change.
Socket F will start out primarily for use in AMD's server line, and will be considered to be in the same socket generation as Socket AM2, which will be used for the Athlon 64 and Athlon 64 X2; as well as Socket S1, to be used for Turion 64 and Turion 64 X2 microprocessors. Such socket generations are intended for DDR2 support.
Socket F will also employ support for the Fully Buffered DIMM. Processors planned for Socket F will also likely support DDR3 and other technologies, like XD-RAM. But when such RAM is used on an FB-DIMM, no motherboard or CPU change is necessary to support the new RAM, as all FB-DIMMS use the same socket regardless of the RAM employed. This overcomes the old drawback of the Hammer architecture, with its integrated memory controller necessitating the replacement of the (potentially very expensive) CPU to support a new memory type.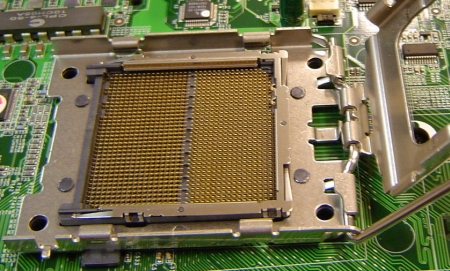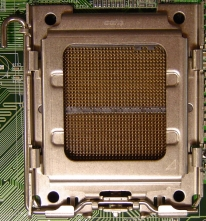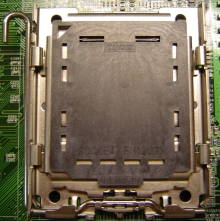 The Socket AM2, previously known as Socket M2, is a CPU socket designed for AMD desktop processors, including the performance, mainstream and value segments. It is scheduled for release on the 23rd of May 2006, as a replacement for Socket 939 & Socket 754. It features 940 pins and includes dual channel support for DDR2 RAM of up to DDR2 800. DDR2 can run at higher clock frequencies using less power than DDR memory, on which the previous Socket 939 platform ran. A recent report at AnandTech showed Socket AM2's performance was 5-10% faster than that Socket 939, using the latest engineering samples — future samples and the final product may prove to be even faster. Despite having the same number of pins, AM2 will not be compatible with existing Socket 940 processors such as the older Opteron Sledgehammer.
The first processors to support the socket AM2 will be new Opteron 100 series processors. The socket is also designed for the following AMD CPU cores: Windsor (Athlon 64 X2, Athlon 64 FX), Orleans (Athlon 64) and Manila (Sempron) – all using 90 nm technology.
Socket AM2 is a part of AMD's next generation of CPU sockets, along with Socket F (servers) and Socket S1 (mobile).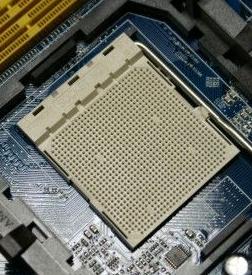 Slot 1 refers to the physical and electrical specification for the connector used by some of Intel's microprocessors, including the Celeron, Pentium II and the Pentium III.
Slot 1 was a departure from the square ZIF PGA/SPGA sockets used for the Pentium and earlier processors. Instead, the processor is mounted on a Single Edge Connector Cartridge (SECC), much like a PCI slot, but with a 242-lead edge-connector.
The Slot 1 specification allows for higher bus rates than Socket 7. Slot 1 motherboards use the GTL+ bus protocol.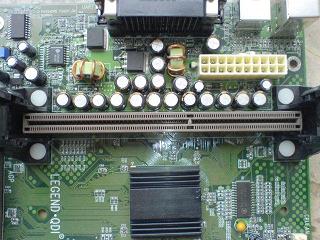 Slot 2 refers to the physical and electrical specification for the 330-lead edge-connector used by some of Intel's microprocessors, including the Pentium II Xeon and Pentium III Xeon.
Slot 2 is intended for use in high end multi-processor workstations and servers.


top slot 2 – bottom slot 1
Socket-603 is a 603-contact CPU socket used by some Intel Xeon processors.
Socket-603 supports a 400MHz Front Side Bus. The Socket-604 supports a 533Mhz Front Side Bus (FSB).
The Socket-603 is a Pin Grid Array (PGA) Zero Insertion Force (ZIF) socket.
A ZIF socket features a lever on one side of the socket. When this lever is pulled up, the spring contacts inside the socket are opened. This allows the CPU to be inserted easily into the socket. The lever is then pushed down, closing the spring contacts and clamping the CPU into place.
Socket-604 is a 603-contact CPU socket used by some Intel Xeon processors.
The Socket-604 has 604 contact holes, the empty contact hole is used for a dummy pin. This dummy pin allows Socket-603 and Socket-604 CPU's to be used in Socket-604 mothterboards, while preventing Socket-604 CPU's from being utilized in Socket-603 motherboards.
Socket-604 supports a 533MHz Front Side Bus. The Socket-603 supports a 400Mhz Front Side Bus (FSB).
The Socket-604 is a Pin Grid Array (PGA) Zero Insertion Force (ZIF) socket.
A ZIF socket features a lever on one side of the socket. When this lever is pulled up, the spring contacts inside the socket are opened. This allows the CPU to be inserted easily into the socket. The lever is then pushed down, closing the spring contacts and clamping the CPU into place
Intel Itanium, Merced-Kern – 180nm – 64 Bit Server CPU
Due to rareness I didn't find much about this socket. If anyone knows more about it pleas mail me at frank@darkzone.lu THX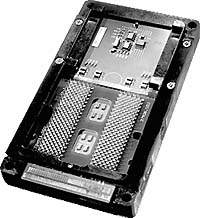 64 Bit Server CPU
Intel Itanium 2 – Madison-Kern – 130nm
Intel Itanium 2 – McKinley-Kern – 180nm
Due to rareness I didn't find much about this socket. If anyone knows more about it pleas mail me at frank@icthistory.world THX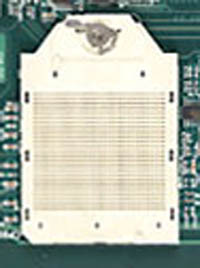 Socket S1 is the new type of CPU socket predicted to be used by AMD for their new Turion 64 and Athlon 64 Mobile processors, expected to debut with the dual core Turion 64 X2 CPUs on May 9, 2006. Socket S1 will have 638 pins, and will replace the existing Socket 754 for laptops. The improvements it will provide are yet to be announced. It has been expected that desktop motherboards will appear using Socket S1, much as boards using the Pentium M's Socket 479 are on the market.
It is expected that Socket S1 will include support for Dual-Channel DDR2 SDRAM, support for dual-core mobile CPUs, and virtualisation technology, to compete with the Intel Merom processor series,
Socket S1 is a part of AMD's next generation of CPU sockets, along with Socket F (servers) and Socket AM2 (desktop). As such, it is likely Socket S1 will eventually receive AMD Turion parts manufactured on a 65nm process.