Koken – Using EXIF and IPTC metadata
Digital photos aren't simply photos. Their files can also include helpful metadata in the form of EXIF and IPTC.
EXIF (which stands for "exchangeable image file format", in case you appreciate trivia) includes data captured by your digital camera. It writes values for things like the camera type, manufacturer, date, and exposure (aperture, shutter speed, ISO).
IPTC (which was created by the "International Press Telecommunications Council" — more trivia!) includes data that is typically added to a digital photo after capture. IPTC has traditionally been used by press photographers and agencies with lots of images to categorize, but anyone can use it with desktop applications including Adobe Photoshop Lightroom, Adobe Photoshop, Adobe Bridge and a host of freeware/shareware applications.
Koken automatically looks inside all imported images for EXIF and IPTC metadata. If found, the data is saved alongside your image. You can view your image's EXIF and IPTC data by clicking on a single image, then clicking the EXIF/IPTC view links in the right Inspector column.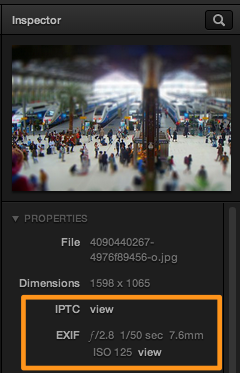 Importing EXIF/IPTC data
If an imported image contains EXIF and/or IPTC, Koken assigns their values to matching fields inside Koken. Here is what's used:
| IPTC/EXIF property | Koken property |
| --- | --- |
| IPTC Title | Title |
| IPTC Caption | Caption |
| IPTC Keywords | Tags |
| EXIF Date Time Digitized | Date captured |
EXIF/IPTC properties not listed above aren't used, but they are saved. If you're creating your own theme you can add EXIF variables and IPTC variables to your HTML markup to publish any EXIF/IPTC property you want.
Lightroom and EXIF/IPTC
Since many Koken users have Lightroom, a couple of extra tips:
Exporting metadata with Koken Publish Service plugin – Runs down which fields inside Lightroom translate to EXIF/IPTC and Koken.
Assigning IPTC data on import – Great article from Digital Photography School that explains how to create a metadata preset that automatically saves IPTC when importing your photos.