Text is for publishing written content on your web site.
Creating
Click on the plus (+) button at the bottom of the left column. You will be asked to choose between an Essay and a Page.
Essays are topical and are intended for sharing spotlighting new portfolio content, news, linking to outside inspiration, or whatever comes to mind.
Pages are for posting custom content in an empty template. Use them to display a page about yourself, studio, contact information, awards, publications, clients, or any custom content you'd like to display on its own separate page.
Browsing
The left column displays links for "Essays", "Drafts", "Featured essays" and "Pages".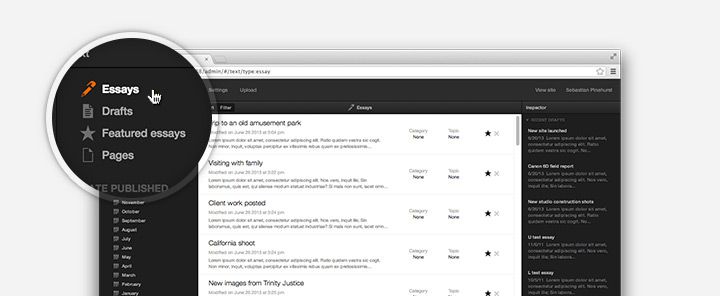 "Essays" and "Pages" displays all the essays and pages you've published. "Drafts" displays saved drafts of essays that have yet to be published. "Featured essays" are essays you've marked as featured (more on this below).
Editing
Click on any essay or page in the middle column to edit. Once opened the middle column will display the document in a rich text editor.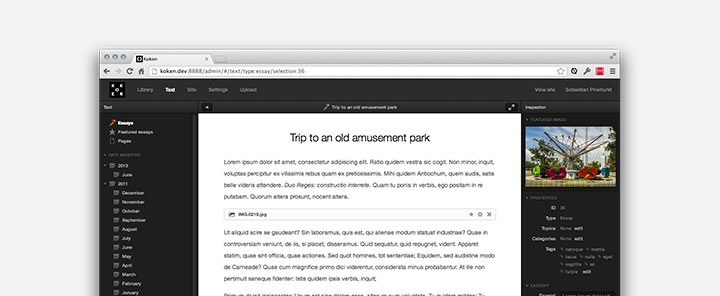 Formatting
To style written content, double click on a word or select a range of characters. A menu containing formatting buttons will appear (see below).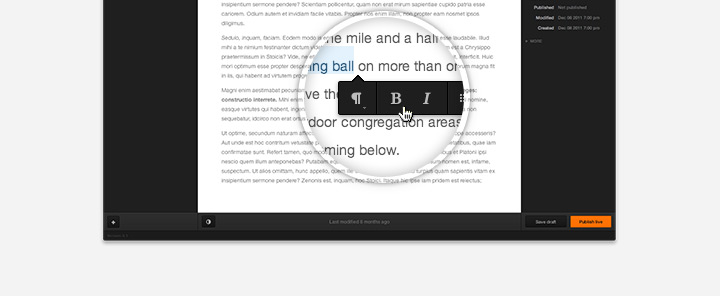 Inserting media, code and breaks
Press return anywhere inside the text editor to create a new line. An empty row will appear displaying the following message:

Click the empty row and a menu will appear underneath (see below). You may use this menu to insert library photos and videos, slideshows, custom JavaScript or HTML code, contact forms (pages) and read more links (essays).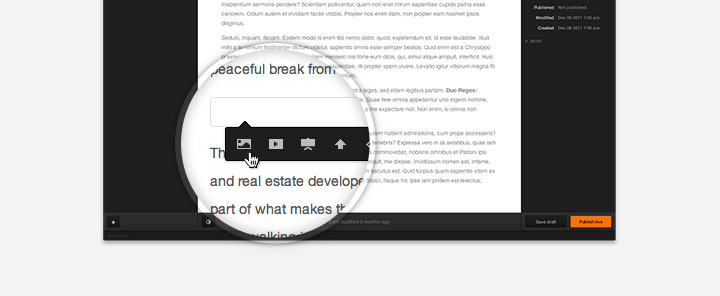 Essays and pages also support media from outside providers including Twitter, Vimeo, Flickr, Hulu, YouTube, Instagram and SoundCloud. To do so, paste the URL of the media into the empty field and Koken will import and format the item. The example below demonstrates an image embedded from Flickr.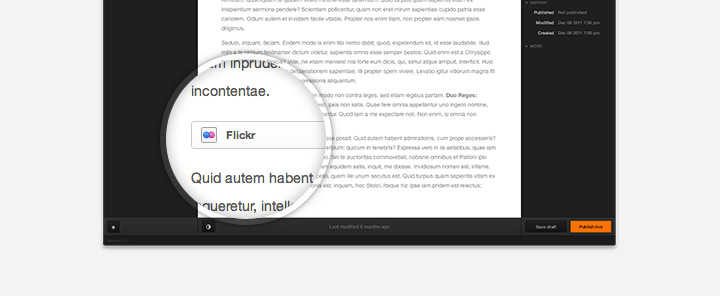 Previewing media
Previews of inserted photos, videos and slideshows may be viewed by clicking the inserted item's title.

Creating a new line around media
Click an empty area inside the inserted item to select it (a dark shadow will appear), then press the return key. The inserted item will shift down and a new line will appear above.

Editing HTML source
To edit the HTML markup of an essay or page click the brackets button in the bottom row of the editor (see below). Source code will appear in a window at the bottom of the rich text editor. The HTML editor window may be expanded upward (and back again) by clicking the window button at top left. You may work in both the rich text editor and HTML editor at the same time to preview changes in both modes.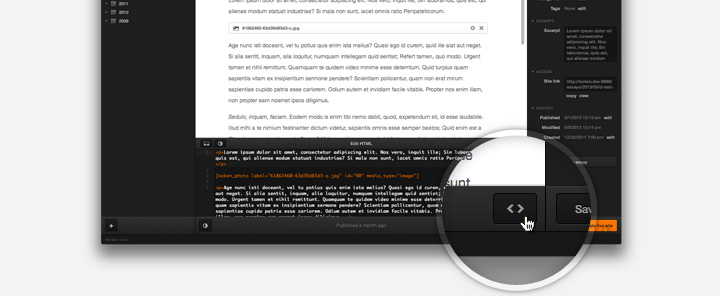 Featured images
The featured image of an essay or page appears at the top of the right Inspector panel (see below). Koken automatically assigns the first image/video inserted from the Library or uploaded directly to the document as the featured image for the essay/page. How the featured image is published on your site depends on the theme you are using, but a common usage example would be a home page layout that publishes excerpts from written works plus a preview image.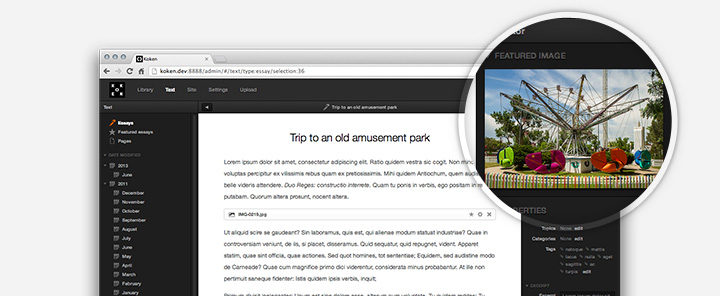 To change the featured image simply insert a different image then click the star button at far right, as demonstrated below. The selected image will then become the new featured image.

To delete a featured image, mouseover it at the top of the Inspector column. A delete button will appear in the upper-right corner of the image.
Featuring essays
Featured essays allow you to editorially feature a select group of essays on your site. To feature an essay click on "Essays" in the left column, then click the star icon next to the essay(s) you'd like to feature. You may then view your featured essays by clicking on "Featured essays" in the left column.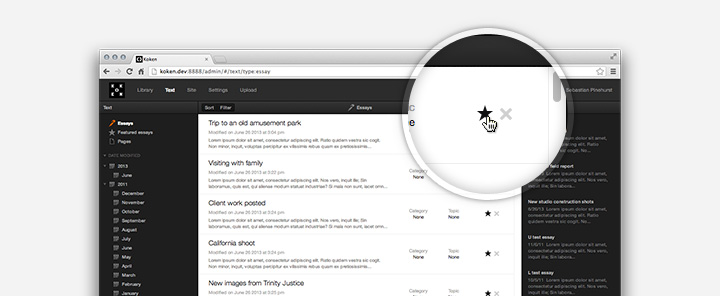 How featured essays appear depends on the theme you're currently using, so check your theme's documentation.
Ordering featured essays
Click on "Featured essays" in the left column, then click-hold-and-drag on the horizontal lines at right (see below). Drag them up and down to change their published order.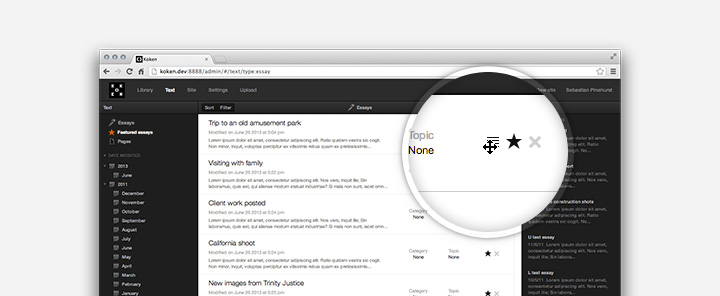 Removing featured essays
Click on a featured essay's star icon again. Doing so will remove it from the featured essays list.
Assigning topics
Public albums may be assigned to essays and pages as topics. This establishes a direct relationship between one or more albums and written content. Once a topic has been assigned a published essay will display (if supported by your current site theme) a link to the albums assigned as its topic and albums will display links to the essays or pages written about them.
To assign a topic, click the edit link next to "Topics" in the Inspector column. A sheet will appear asking you to add one or more albums as the document's topic. How topic links are published depends on your current theme, but most include links on the album and essay templates that cross-link between the two.
For more detailed information on topics see this tutorial.
Assigning categories and tags
Categories and tags may be assigned to essays by clicking their "edit" links in the Inspector column. The categories and tags created and assigned here are also made available to Library content. If your theme includes an essays archive template, site visitors may then view all essays assigned a particular tag or category by clicking their links.
Publishing
Essays
Essays have two publish states: draft and published. Drafts are unpublished essays viewable only to you inside the console. A published essay is one that has been posted to your web site. Buttons for both actions are at the bottom of the right Inspector column.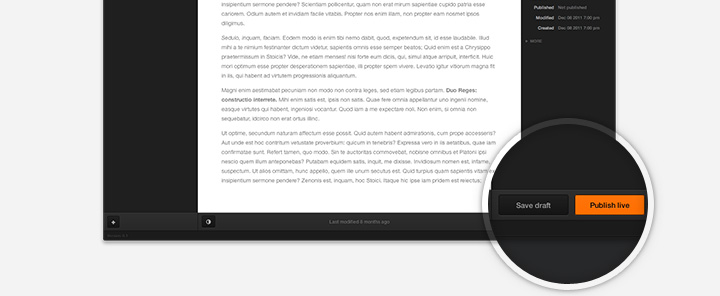 Koken automatically saves every few seconds edits made to both draft and published essays. With published essays, saved edits are not posted to your site, but rather saved internally for whenever you're ready to take your changes live.
Pages
Pages are published at their own standalone url, which is displayed in the right "Inspector" column of the text editor after a page has been created. To add a saved page to your site's navigation, click the "Site" link in the console's main navigation, then "Add links" in the left column. All your saved pages will appear there for you to add.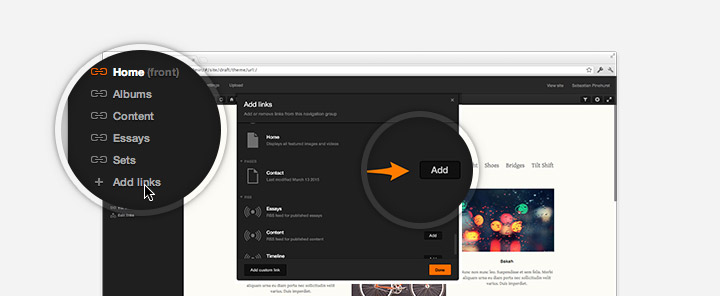 Summary
This completes our general overview of publishing essays and pages with Koken. Check out our other articles that take a closer look at specific features and functionality.
Sunset portrait image

Mike Monaghan, Creative Commons.