We know, we've been there. Getting accustomed to an entirely new software product can sometimes feel like you're wandering alone through the woods at night. For that reason, we've put together this super high-level overview that explains all the basics about Koken. Pull up a chair and let us show you around.
Importing images and videos
The library is where you import all the images and videos you'd like to publish. Click the "Import content" button at the bottom of the right column, then drag-and-drop files into the marked area. Everything you import is published automatically to your live web site.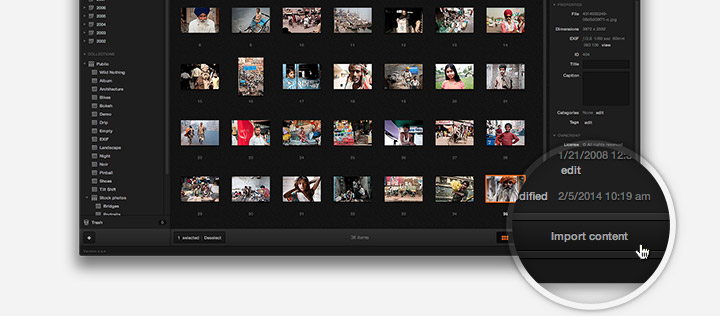 Organizing content
Click the plus button at bottom left to create collections. You may create albums to group content or sets to group albums. Content may be dragged and dropped into one or more albums. Sets can hold an infinite number of albums and other sets.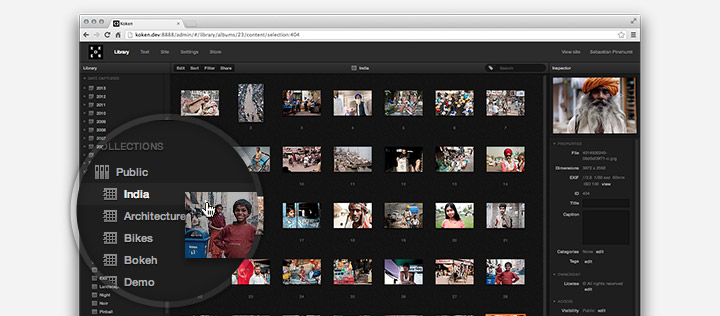 Writing essays
Write about your work, promote the latest news, or anything else you like by publishing essays in Text. You may insert uploaded images and videos from the library, slideshows, custom images, or embed media from places like Flickr, Instagram, Vimeo, Twitter and more.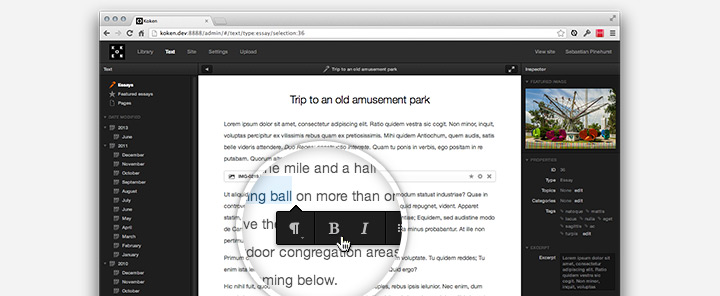 Publishing a site
Click on Site in Koken's main navigation. This area controls all aspects of your public web site including theme, navigation and appearance.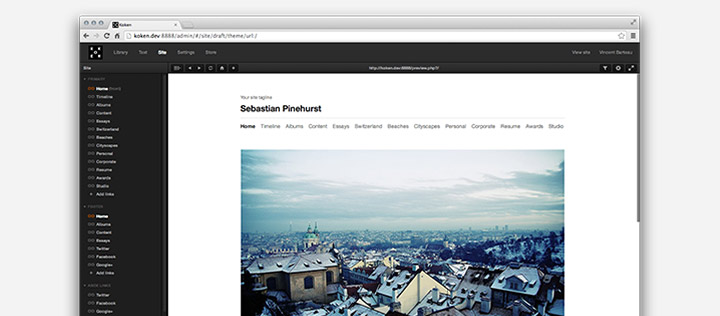 Customizing site themes
Themes that include editable settings display a button at top right that launches a Settings panel when clicked. Here you can modify settings that apply to the entire theme ("Theme") and settings that apply only to the page currently in view ("Template").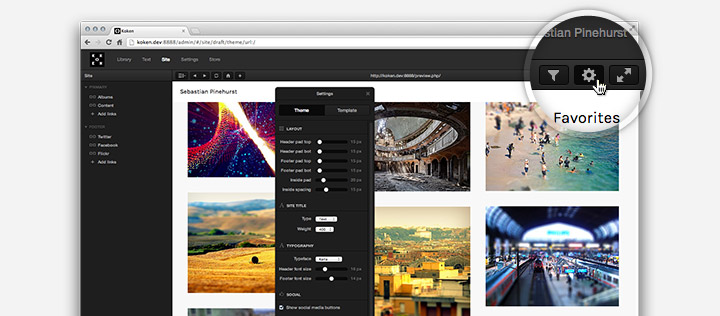 Adding links
Edit your site's navigation by clicking "Add Links" in the left column. A simple interface will appear allowing you to add the collections or templates you'd like your site visitors to see.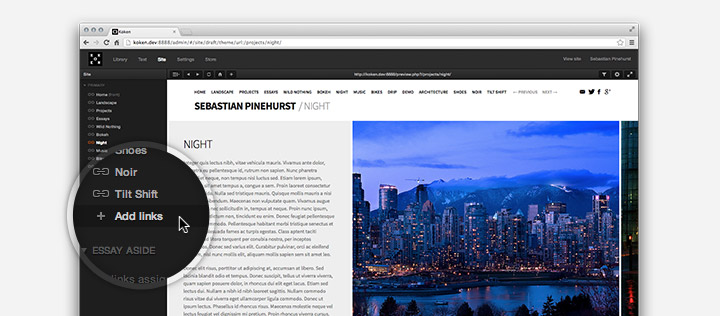 Downloading themes and plugins
This was done in the time with the store icon. It's still visible but not working anymore as it was set offline.
You can download the plugins and themes, as far as available, within the download area for Koken.
Off you go!
Ready to learn more? Awesome. Dive into the library, text, or site articles to learn more about each section. If you get lost or have any questions, feel free to ask a question on Discord or contact us over the form.