Koken – Insert read more links
Read more links break essays into partial and complete articles. They're typically inserted after the second or third paragraph and appear as hyperlinks (e.g., "Read more") when the essay is published to the essays or essay archive pages. The remaining essay content is then read by clicking the link.
Inserting a read more link
Anywhere in your essay press return to create a new line. An empty row will appear, prompting you to continue typing or click. Click the empty row and a menu will appear underneath (see below).

Click the ellipsis button (highlighted above) to insert a read more link. It will appear like this:

Continue typing your essay after this link. Everything that follows will appear only on the individual essay page.
When finished, preview or publish your essay. If your theme includes the necessary template tags (more on that later) you should see a "Read more" link at the end of the essay on the essays and essay archive pages. Here's an example from our default Elementary theme: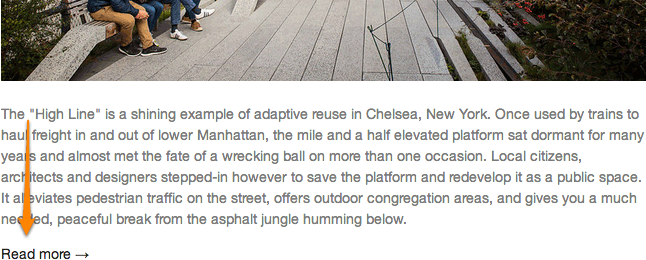 Editing the read more link
"Read more" is the default, but you may change this by clicking the inserted item in the essay. A sheet will appear for you to assign your own link label.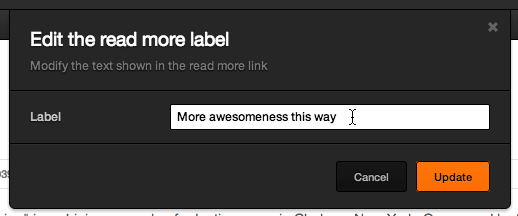 Preview or publish your essay and the link will reflect your changes.
Removing the read more link
Click the X at the far right of the essay's inserted item. Note that if your essay already contains a read more link and another one is inserted the first will be deleted automatically.
Template tags
All of Koken's themes support the read more link so you may start using it. If you're designing your own Koken theme you would need to add the tag to your essay output to break up essays using these links.